iwanttobeavampire,
This is to the response of your recent queries and confusing that you have been facing. I will try to cover everything here in a single topic. Feel free to ask anything again, in case i might miss something.
1. Reason for resetting your account.
Well I did it myself, and the reason is something that everyone knows by now.
Announcement
If you kindly follow up the announcement that Misslia posted about a week ago, you can get finally begin to understand how this website works. Your account was reset due to violation of Rule No. 6, which clearly and strictly forbids the members to post any SPAM. You had previously posted 3 public entries in the forum which qualified as SPAM, and were personally removed by me.
Miss Lia wrote:

Some of the post you will find that are deleted or locked.
The reason of this is because as part of this fresh start we will aliminate SPAM from the roots. And we will not allows SPAM.
This includes the several post people create like this:

"turn me"
"whos a vam here, turn me"
"please help"

The reason why this will be locked and eliminated is because WE DO HAVE A POST with the nosferatu pact detailed.
IF YOU FEEL PREPARED FOR THIS, THEN GO AND PERFORM IT.

2. Confusion about a conversation between me and you.
iwanttobeavampire wrote:

I SHOULD HAVE A PRINTSCREEN OF SEBASTIAN SAYING THAT HE WOULD FOLLOW THE MISSING PARTS OF NOSFERATU PACT AS THE ADMIN "JAKE" SAID. CLEAR AS CRYSTAL.
I honestly have no idea about which messages you are referring to. As long as the situation is seen from my side, I have got 2 messages from your account.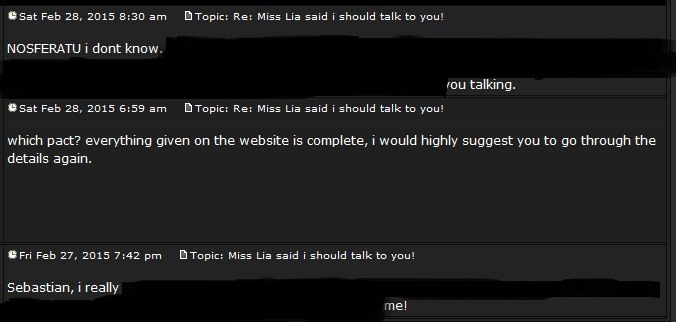 As you can see the first message, at the bottom, was replied back to your inbox by me on the very next day. As for the second message, i instead made a public post, as it had became more of a public conundrum at that point of time. I made a public post explaining the situation and Lucifer replied to it asking the same question that you were having about the missing part. When i requested the members to point and quote as to where Jake mentioned anything about a further second post, nobody replied to that. Although I replied back to a few members after that personally and explained them with the situation. But due to your absence, I considered you to have cleared your doubt. So the whole public conversation was removed because it was redundant and unnecessary. The conversation was done within a post called "What's Happening", which itself violated the Rule No. 6, so it had to be removed.
3. The incomplete ritual.
Well instead of making an explanation all over again with you, as have already been done with several other members, I would instead post my message in here and I hope you could fathom enough explanation from that.
Sebastian wrote:

regarding your first question, i had already asked you this in my previous post to exactly mention or better, quote it as to where jake mentioned about posting the second part. you see even when the ritual was first posted, no member had ever complained about an incomplete ritual. i have read it myself, word for word, and as far as i can see there is no mention for any further posting. the point itself for the revised version was to provide the members with an alternative for the dark meditation.and even the point of asking an alternative for the nosferatu pact itself ia pointless.the pact is the EASIEST and the most EFFECTIVE ritual that has ever existed. you can ask yourself as to what price we have at stake here? IMMORTALITY! can you really imagine that the gift of immortality could be bestowed upon a person just by enchanting a few words in the comfort of your room. do you really think that would be worth the price of immortality. see nosferatu pact, physically requires the slightest of the effort, you need a location and the required item and the ritual doesn't even take a few minutes to complete. the only catch is about the courage and you spiritual as well as mental preparation. see when the ritual was first posted on the internet people had no question, they followed it without a doubt. because before the world was actually presented with an actual ritual out in the public, people had to travel physically to the remote corners of the world,searching for libraries, museums and other legit sources in the search of scrolls or other ways to earn the ritual. and when all of that was deducted into one simple search on the internet,people were more than pleased. but now with the teens and the kids flooding this internet,blinded with their teen fantasy of sparkling vampires are too naive and ignorant about the vampirism itself. they want an easier way for everything and even when you give them something they are never satisfied and ultimately they would ask you to turn them because they have "ISSUES" for doing the ritual. well rest of you, you already know.I'm not saying you are one of them but by now i am sure you have realized for any person who says there is an easier way is either bluffing or lying, or maybe they are the fifth level dark art masters who have created their own ritual. as far as i can see the conundrum about an incomplete ritual began when a member commented about the ritual being incomplete for no reason. the admin and the moderators were away during that period so we couldn't have dealt with him at the proper time, which culminated into a whole new chain reaction of further new members being confused looking at the last comment.
but like i said if you think there is somewhere in the post where jake had mentioned about a second post, just point it out for me and i will look into it.
Sebastian wrote:

about the post, well if you have already read the nosferatu pact, then you know which part needed an alternative, i.e. the dark meditation, having that mentioned if you read the revised version from the beginning and try to comprehend it all, it will all make sense. but if you skip the previous parts and just focus on the last paragraph then i must say it sounds a little ambiguous. but like i have already mentioned, nosferaratu itself is quite easy and wondering for an alternative would be insanely absurd. either way, to understand it more clearly, what jake might have been trying to say was the, (him being the practitioner as an example) that one must follow the revised ritual with the following parts of the nosferatu pact right away, for that the preparation part is completely over with the revised version. now one must follow with the rest of the nosferatu right after that.
it was supposed to be mentioned like that because a few members who were new to the website, searched the ritual and having found an easier version of the nosferatu pact, instantly jumped into the procedure, without actually reading the description at the beginning. those members thought it was actually a ritual that would turn them into a vampire and when they didn't get the result, they kept nagging the admins and the moderators that the ritual is fake. well if they had read the description at first, they would have known that it is merely an alternate version to just a PART of the actual ritual. you actually need to perform the rest of the ritual to make it work. but like you already know, no matter what you do, new members don't even bother to check the description or to go into the detail. they just want a few enchantments that they can just mumble like avaka davera, and they are turned into a vampire. well it never happens like that now, does it.
In long story short.
-Every ritual is complete.
-Nosferatu Revised ritual is an ALTERNATIVE to ONE PART of the original "Nosferatu Pact", that part being the "dark meditation".
-Members always complain about how difficult they find to do the "dark meditation", so Jake posted an alternative to JUST THAT ONE PART.
-So you either do the dark meditation or the Nosferatu revised, it is all the same and is only the first step. After that you follow the Nosferatu Pact as it is.
-Beside the preparatory part, the Nosferatu Pact itself is quite simple if you can look up at the procedure and doesn't require an alternative, as everyone has been keep whining about. Besides the preparation, the pact doesn't even take 10 minutes to complete!
[This is a personal NOTE to every member out there reading this]
So honestly if a member thinks they cannot follow up with the noesferatu pact or any other ritual given in the website, the guess what? We don't honestly care! Why would we care if you become a vampire or not? I mean seriously why would the admin want to help you, or us or any other moderator? We are not here to bib you, spoon feed you everything, and then clean you up and put you to bed! THAT IS NOT OUR JOB! We have given you everything and more! So you can either man up and do the ritual or if you think you have a problem with the ritual and want an easier way then you are at a wrong place. We are here to guide you with what has been provided already, and not to give any member with another EASIER WAY to suit everyone's need. We don't care. WE ARE HERE TO GUIDE YOU ALL. LEARN THE DIFFERENCE.
4. The deserving members.
I honestly don't wanted to reply to this part but I guess, the transparency between the members and the administration is necessary. I personal give all my efforts to the members and have always been very responsive to every question that had been raised to me. Even when we were absent from the website, we had been responding EVERYONE who came for help through emails, personal messages and everything. So don't you tell us who is more deserving and who is not. First you have to know where exactly you stand, and you need to know if you actually belong or not. Like i have mention in the above point that we are not here to deal with any further irrelevant requests anymore. Maybe we did before, but now we can't and we WON'T. We are here to merely provide the members with any guidance if they need. We are not gonna post any further ritual or any other EASIER method or ANY FURTHER ALTERNATIVE! Dig out and gather from what you can find in this website. The member we have been replying, and the ones you are referring to, who you think are less deserving than you are, have been present here on this website for years. And no that is not how much biased we are. We respond to them because they are attentive, courteous and dedicated unlike most of the new members. When they raise a question, they are seeking guidance to help them clear their way so that they can steer ahead in the paths that we have provided here. They don't keep nagging us about incomplete rituals and posting alternative ways. We are trying to help here, but we cannot keep replying back to the same question over and over and over and then clean up the mess and then encounter with another new member with the same situation and the turn back the loop for once more. That's why we have created a separate post for the Announcement and the Forum rules. Kindly go through that.